Home > Machinery > Coil and Wire Winding Machines
Wire Winding Machines

Coil winders are simple machines which evenly wound tight coils. These machines efficiently wind twines, cords, threads, wires, ropes, etc., and find wide usage in both domestic and industrial application. Winders vary in shapes and sizes, and especially in modern times, they are commercially available with a lot of inbuilt optional accessories like digital display controls and automated features.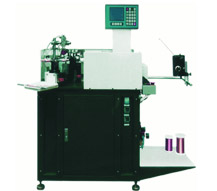 Generally, typical winding machines consist of a center roll (a spool, reel, bobbin, belt-winding shell, etc.) in which the material is wound up. Sometimes, metal bars are also used as a center roll depending on the material to be wound. Although, it has to be kept in mind that a circular bar provides greater speed, whereas a square bar facilitates a greater potential for torque. In order to know how full the center roll is, edge sensors are being used. Often, they are mounted on adjustable slides to accommodate various widths, as the width enhances as the center roll is filled. The sensibility of the sensor banks on the required speed of operation.

Winding a coil manually can be a time consuming and tedious task, hence employing these machines can cut down manual labor and save time. In order to coil materials properly, they are required to be distributed evenly on a core, whether one layer of coiled material is being made or many, and the tension also should be equal throughout the winding process. A coil winder is designed in such a way that it maintains even distribution and tension as it makes coils. Some coil winders produce one coil at a time while there are others that can simultaneously wind a bunch of coils. These machines may be standalone, as with a simple coil winder that creates electromagnetic coils or they may be utilized as an attachment to a production line. For instance, in a company which makes cable, coil winders are vital part of the production line, so that the cable can be packaged for transit and sale as it is made.