Home > Machinery > Chemical Machines
Chemical Making Machines

Chemical machines or equipments should always be state-of-the-art, as they are used for formulating stable as well as unstable chemicals at particular temperature and pressure (high as well as low). In line with this, one must select only the precision designed and manufactured chemical machines. Few of the most used chemical making machines are reaction vessels, sigma mixers, and hydro extractors. With the use of these machines, various chemicals are made that are used as the raw material in various manufacturing units. Some industries use chemicals that give simple, fast reaction and some use chemicals that delay the reaction time, to give the desired results. Hence, the market is filled with various chemical making machines manufacturers, but very few comply to the industry trends and demands.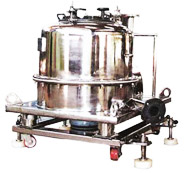 Demanded Chemical Machines:
Few of the Most Demanded and Used Chemical Machines are as FSollows:
Pigment Grinding System
Reaction Vessels
Sigma Mixers
Distillation Column
Hydro Extractors
Emulsifier Mixer
The chemical processing plants & machinery are very helpful in accomplishing the company's targets and goals. Various manufacturers have constructed modern infrastructure to create a separate environment for chemical processing. The Chemical Machine Manufacturers use these equipment to formulate organic chemicals, inorganic chemicals, industrial gas, alcohols, ethylene, polymerized compounds, acids, compounds and specialty chemicals.

Key Highlights (Corroboration Needed):
About 26 percent of output of the chemical industry is consumed by the companies of this domain only.
By using chemical making machines, various products are products, among which 80 percent constitute of the polymers and plastics such as:

Polycarbonate
Polyethylene
Polyethylene Terephthalate
Polypropylene
Polystyrene
Polyvinyl chloride
The chemicals processed using chemical formulating machinery are also used for making consumer goods, and various inputs for industries like construction, agriculture, manufacturing and service. Few of the regular and major customers of the chemicals produced are manufacturers of apparels, petroleum refining, primary metals, pulp & paper, rubber & plastic products and textiles. We manufacture, supply and export all types of machines and equipments used in making different types of chemicals. Contact us to buy or for more information on chemical making machines and equipments.