Home > Machinery > Ceramic Machinery
Ceramic Machinery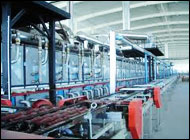 Ceramic products have always been in demand and have earned high appreciation in the marketplace for their superior finish, aesthetics and utility. Still people think that ceramics are in form of cups, plates, saucers or the tiles, but there are many other ceramics applications. Latest ceramic technologies cover Ceramic Machinery that helps to make attractive and useful products, and to make available the same to the marketplace.

A rising trend in the ceramics comprises decorative arts, ornamental home furnishing items and jewellery pieces, etc. The ceramic material requires a special kind of machinery which is used in the processing of clay, chemical, and in the utility applications and mining as well. In addition, the ceramic machinery cut down the time spent on the processing of ceramic products, and also enhances the efficiency of the manufacturing process. Some of the ceramic machines include:


Ball Mill: A ball mill is efficient in crushing and grinding the materials, used in the ceramics into small particles. There are basically two types of ball mill.


Wet ball mill: For wet material.
Dry ball mill: For dry material.



Filter Presses: After wet crushing, it is the Filter press that is used to dry the sludge of the material. Some of the core types of filter presses are:


Plate filter press
Blungers: In ceramic preparation, Blungers are effective in the formulation of slip. Most parts & components of this machine are made of steel so as to avoid excessive wearing.



Glaze Stirrer: This precision machinery is used in the firing process and in the final coat. It forms a glass-like coating around the tough ceramic to make it shiny and give decorative appeal.

With all such ceramic technologies, the industry is meeting diverse needs of manufacturers, consumers and other partners. Also, there is a constant focus towards the improvement in technology which includes all the aspects of material, methods and techniques.