Home > Machinery > Braiding Machines
Braiding Machines

Braiding machine is simple machinery that is widely used for braiding wires, ropes, and cotton. The finished range of braids that is derived from these machines is used for varied purpose in different industrial segments like electrical and others. Also, the braids manufactured from these machines are used in crafts like Christmas bows, coaster, ties, dollhouse rugs, etc.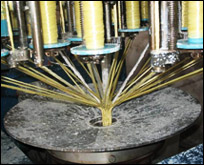 Commonly used braiding machines for braiding cotton use 16 Bobbins of thread. Out of these 16 bobbins 8 go clockwise and the remaining 8 move in anticlockwise direction. Bobbins pass one another to the left & right, and a peg is attached to the base that is driven by notches in gears. Round braids are produced when a bobbin goes over 2 and under 2 threads. In order to develop a flat braid, braiding machine with 17 bobbins is used. Bobbins move in the opposite direction in turns, and come to the front of the machine so as to follow the track. During this whole process, every single thread is under constant tension that actually results in uniform wrap in the braid.

At the bottom of the table in which bobbins move, there are 8 gears that places in a circular manner. Each and every gear is tightly attached to a place with four slots. Also, there is a pin that extends from bobbin carrier below the base plate and passes through the slot in the plates that are attached to the gears. During the process, carrier shifts to the next gear plate according to the time slot in order to meet the approaching carrier.

There are two types of Wire Braiding Machines – Horizontal & Vertical. The horizontal wire braiding machine is generally used for braiding high tensile steel wire on hose pipes. Vertical wire braiding machine helps in braiding soft metals such as stainless steel, tinned copper, etc. Large number of reputed manufacturers and suppliers are involved in the domain of Rope Braiding Machines.