Home > Machinery > Biscuit Baking Machinery
Biscuit Making Machinery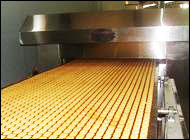 Your favorite snack food, biscuits or cookies is one of the most widely consumed food item. It comes in the category of packaged & processed foods, prepared from fresh ingredients. Over the years, a wide variety of biscuits have come-up in terms of flavors, taste and nutritional factor. In order to bring some new varieties, new flavors and new shapes in the biscuits, manufacturers keep up with new technologies of Biscuit Baking Machinery.

In this huge marketplace we can enjoy light biscuits, very rich cookies and heavy as well. Also, there are sweet, creamy and salted biscuits to choose from. To prepare such a wide variety of biscuits, different types of biscuit baking machinery have been developed. These machines are designed and fabricated with special features according to the type of biscuits to be baked. The range of these food processing machinery can be classified into the following sub-divisions:
Baking Machines
Pre-Baking Machines
Post Baking Machines
Pre Baking Machines:

A wide range of Pre-baking machines is available in the market. These are used to carry out various pre-baking processes like preparing raw ingredients, dough making, etc. Some key Pre-Baking Machines are:
Rotary Moulder
Horizontal Cut & Lay Laminator
Dough Mixer
Flour Shifter
Salt / Sugar Sprinkler
Baking Machines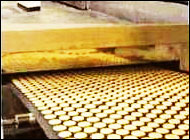 Baking Machines:

These are the baking technologies or equipment that facilitate baking process of the biscuits. Primarily, baking machines are baking ovens, that can be gas fired or oil fired. Nowadays many more sophisticated baking ovens are available market. Modern-day baking ovens are equipped with features such as:
Automatic control
User friendly options
Regulatory temperature
Spacious, advanced etc.
Post Baking Machines:

Baked biscuits are usually ready enough to eat but still there are some other processing still left out. The post baking activities cover cooling of the baked biscuit, applying layer of cream (for cream biscuits), garnishing, etc. These sorts of baking acts are carried out with post baking equipment, and the core post baking machines include:
Cream Sandwich Machine
Oil Spraying Machine
Packing Table Unit
Two tier cooling Conveyor