Home > Different Industrial Molding Processes > Transfer Molding
Transfer Molding Process

What is Transfer Molding?

Transfer molding is a process of molding which incorporates both injection and compression molding. Hence, the products so produced by this process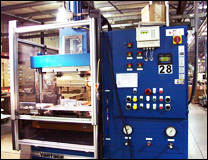 possesses good surface finish, dimensional stability, and mechanical properties typical to compression molding and the high-automation capability and low cost of injection molding. Although this process of molding is primarily employed for thermosetting resins, sometimes some thermosplastic resins are also processed by transfer molding. There are different types of transfer moulding process like resin transfer moulding,plastic transfer moulding, rubber transfer moulding, glass transfer moulding, etc.

The Process of Transfer Molding:

The process of transfer molding constitutes of the following stages :
The specific amount of polymers, in the form of pellets, granules or putty like masses, is measured, and put into the transfer pot and heated.
The polymer is pressed by the plunger, which is located on the top plate, so that it evenly fills the mold cavity through the spruce.
If thermoplastic have been used, the molds are let to cool or are cooled artificially using air jets. Incase of thermosetting plastics, they tend to retain their shape and dimensions even in hot state and hence the cooling process is seldom used.
The scrap left on the pot bottom (cull), in the sprue and in the channels is removed. It has to be noted that the scraps of thermosetting plastics cannot be recycled.
Application of Transfer Molding:

This process of molding is best suited for molding with ceramic or metallic inserts as the the heated polymer fill tends to bond with the insert surface. As compared to other molding process like compression or injection molding, the cycle time is shorter in the process of transfer molding. This method also produces shapes that are more complicated than compression molding, although not as complicated as injection molding.

The transfer molding process is undertaken using hi-tech transfer molding machine, designed as per the industry norms. Across India, there are numerous reputed manufacturers, suppliers and exporter offering transfer moulding machinery at competitive cost.

Advantages of Transfer Molding Process:
Dramatically cost efficient
Excellent surface finish
Dimensional stability
Fantastic mechanical properties
High-automation capability.
Materials Used in Transfer Molding Process:
Epoxies (EP)
Phenolics (PF)
Unsaturated Polyesters (UP)
Vinylester
Glass
Resin
Plastic
Rubber
We provide details of manufacturers, suppliers and exporters all types of machines used in transfer molding process like resin transfer molding machines,plastic transfer molding machines, rubber transfer molding machines, glass transfer molding machines in India. Feel free to send any query regarding transfer molding process and transfer molding machines.