Home > Different Industrial Molding Processes > Compression Molding
Compression Molding Process

What is Compression Molding?

Compression molding is a high-volume, high-pressure method of molding used to produce larger flat or moderately curved parts such as hoods, fenders, scoops, spoilers, lift gates and the like for automotive end-uses. Even before plastic existed, this method was widely used in the bakery industry to mold cookies and cakes. There are number of manufacturers, suppliers and exporters in India, offering hi-tech compression moulding machine.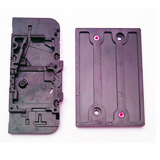 Types of Compression Molding:
Cap Compression Molding
Injection Compression Molding
Plastic Cap Compression Molding
Plastic Compression Molding
Rotary Compression Molding
Rotational Compression Molding
The Compression Moulding Process:

In this method, the material (which is generally in its granular or putty like form) is first heated and placed in the oven or heated mold cavity. The mold is then closed and subjected to pressure so that the molten material is distributed evenly in the mold cavity. It has to be noted that it is very important to maintain a consistent heat and pressure till the molding materials are cured. The machines used in compression molding are found in a wide range of shapes and sizes. Generally, these presses are powered by a hydraulic ram so that sufficient force is produced.

Raw Materials Commonly Used in Compression Moulding Process:
Polyester fiberglass resin systems (SMC/BMC)
Polyester
Polyimide (PI)
Polyamide-imide (PAI)
Fiber reinforced plastics
Poly(p-phenylene sulfide) (PPS)
Different grades of Polyetheretherketone (PEEK).
A few important considerations to be kept in mind while executing the process of compression molding:
Determining accurate amount of material
Determining minimal amt. of energy necessary for heating the material
Calculating the minimum time i.e. require to heat the material
Ascertaining the most appropriate heating technique
Predicting the required force so that shot takes proper shape
Designing of mold for rapid cooling of the material after compression
We are an India based manufacturer, supplier and exporter all types of compression moulding machine, cap compression moulding machine, rotary compression moulding machine, injection compression moulding machine, plastic cap compression moulding machine, plastic compression moulding machine, rotational compression moulding machine, etc. Feel free to send your query for information on any types of compression moulding machines.