Home > Auxiliary Equipment > Vibro Screen
Vibro Screening Machines

Among the various auxiliary equipment of the rotomoulding machinery, vibro screen is the most standard one. The vibro screen machines have a pivotal role in processing process. These machines are also ideal for grinding polymer or plastic granules, to ensure clear and precise removal of dust particles as well as large particles. The vibro screening machines are suitable for separating the fine dust and uncut molds in case they are used for reprocessing of the material received from the scrap cutter. The vibro screens assists in serving precise granule size which is ready for recycling or reusing – a most demanded parameter in the plastic industry. Vibro Screen is highly outstanding solution for variety of screening and separation applications which comes under in plastic industry, mainly reuse of the material. Vibro screen machines are also knonwn as vibro screening machines, vibratory screen machines and vibrating screen machines.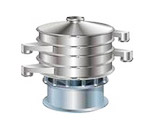 Special Features of Vibro Screening Machines:
Better Pollution Control
Better Process Control
Low Power Consumption (Max. 3 Hp)
No Screen Choking / Clogging
Reduced Environmental Hazards
Reduction In Material Loss
Savings On Manpower Cost
Vibrating screening machines have created its own Versatile, Reliable and Economical qualities in continuous process equipment for carrying out various size based separation like Screening, Sifting, Classification, Grading, Oversize or Under size Removal, De-Dusting, De-Watering, De-Lumping, Fiber Recovery, Filtration, Pre-Filtration and Scalping. The machine helps in serving any size based Vibro Screen separation with the use of wire mesh or perforated sheet and can work upon for various application. The vibratory screening machines are allotted with several forms of names such as "GyroScreen" but some times it is also known by the names Screening Machine, Screener, Vibrator, Sifter, Grader, Classifier, Separator, Sorter Or Filter.


Gyratory motion is the basic principle of vibratory screen machines. The said motion is generated by the double eccentric weight, which is mounted on the both ends of the shaft. In this case, the specially designed vibratory motor serves the purpose of vertically mounting of the shafts.

By its adjust-ability of weight and the relative angle between them it is possible to make the material move on the screen in desired path to achieve the desired retention time for effective screening before the material gets discharged from the outlet spout and also it helps in avoiding of error. During this process, following events are realized:
The particles having smaller size in comparison to that of mesh aperture, spill through the mesh.
The large size particles are removed via the outlet spout.
When the requirement is multi deck screening is realized, the process is repeated with the following mesh. We manufacture, supply and export all types of vibro screen machines, vibro screening machines, vibratory screen machines, vibrating screen machines. Contact us to buy or for more information on any types of vibratory screen machines.