Home > About Rotomoulding > Rotomoulding Process Over View
Rotomoulding Process Over View

The rotational molding process, which consists of high-temperature, low-pressure plastic-forming process that uses heat and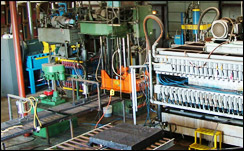 biaxial rotation to produce hollow, one-piece parts.
The basic fact of the process point to its long cycle times only one or two cycles an hour can typically occur, as compared to other processes such as injection molding, where parts can be made in a few seconds. The process do contain special and distinct advantages. Manufacturing large, hollow parts such as oil tanks is much easier by rotational molding than any other method. Rotational molds are significantly cheaper than other types of mold. In this process very little material is wasted, and excess material can often be re-used, making it a very economically and environmentally viable manufacturing process.

The rotomoulding process contains few important process steps:

Processing a measured quantity of polymer (usually in powder form) into the mold.


The first and the foremost step in rotomoulding is heating the mold in an oven while it rotates, until all the polymer has melted and adhered to the mold wall. Then the hollow part should be rotated through two or more axes, rotating at different speeds, in order to avoid the continuous addition of polymer powder. The length of time the mold spends in the oven is highly critical: too long and the polymer will degrade, reducing impact strength.
If the mold spends too little time in the oven, the polymer melt may be incomplete. The polymer grains will not have time to fully melt and to blend on the mold wall, which results in large bubbles in the polymer. This has an reluctant effect on the mechanical properties of the finished product.
Cooling the mold, usually by fan. This stage of the cycle can be quite lengthy and can consume long time span. The polymer must be cooled so that it solidifies and can be handled safely by the operator. The part will shrink on cooling, coming away from the mold, and facilitating easy removal of the part. To avoid any failure the cooling rate must be kept within a certain range. Very rapid cooling (for example, water spray) would result in cooling and shrinking at an uncontrolled rate, producing a warped part.
And last stage of rotomoulding is the removal of the part.