Home > About Rotomoulding > Cost Advantages
Cost Advantages of Rotomoulding

Companies generally venture into rotomolding business because of its cost effectiveness over the other molding processes. Rotomolding or rotational molding is a useful process which provides unique design advantages, which consequently helps in putting together several pieces into one rotomolded piece. Hence, the high level of fabrication cost are eliminated and companies earn lots of profits with it.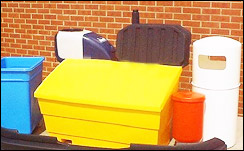 The process also has dynamic design strengths, such as consistent wall thickness and strong outside corners that are virtually stress free. Along with being designed into the part, they can be added to the mold to get get the better product output.

To focus on the cost advantages of rotomoulding it can be bulleted as follows:
As compared to other molding processes the tooling costs are lower in roto moulding process. In that regard and changes can be easily made to existing molds, Roto molding also offers outstanding flexibility and durability. Complex contours, metal inserts, flanges, and molded-in threads can be designed into the walls requiring steps to get finished product. And the color can never crack or fades out, because it's molded-in, all the way through. That means no painting is required.
Roto moulding results in perfectly consistent parts with unvarying wall thickness and more material in corners, to absorb shocks and stresses where they occur most.
The finished part in roto moulding process is strong adhesive as in thermoforming or pressure forming, the material is not stressed. And the molds don't need to be designed to withstand the high pressures of injection molding. This advantageous feature of this process makes it a unique process.
Roto moulded plastic products are portable and less expensive to ship due to lighter weight than metal or fiberglass as compared to other moulding process.
Roto moulded plastic products are durable, tough and long lasting. By which it creats a outstanding image in the market's demand.
A highly temperament manufacturing option that allows the clients for unlimited design possibilities with the additional benefit of low production costs. The cost advantages of this process are possible, as it creates a single piece which is a seamless and stress free plastic item of small as well as large sizes, boasting of impeccable superior finish and exotic nature. Roto moulding offers a definite production and cost benefits over other processes. Roto molding is a cost-effective way to produce large parts. This rewarding features and characteristics of this process makes it a unique performer in the market and hence creates the demand and need.